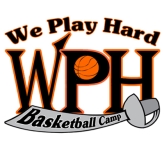 Ventura College Athletic Event Center
9:00 am - 2:00 pm Daily
(The gym opens daily at 8:30 am)
2021 SESSIONS
Session 1
Mon-Thurs
July 5-8
Session 2
Mon-Thurs
July 12-15
Session 3
Mon-Thurs
July 19-22
CAMP DIRECTOR:
Joey Ramirez
"WE PLAY HARD"
WHAT IT MEANS AT THE WE PLAY HARD BASKETBALL CAMP
Our philosophy, from basic fundamentals through team play, has its foundation in
playing hard. Playing hard is more than winning and losing. It means giving your
best effort, all the time. It means never having to make excuses. Playing hard is the
most important skill we teach at Ventura College.
CAMP EMPHASIS
The We Play Hard Basketball Camp stresses the importance of the fundamentals of the game in a fun, safe, and comfortable environment. The basics of shooting, passing/catching, ball handling, defense, and footwork will be emphasized.
Campers will also be able to compete in many different drills and contests.